Bob is the fierce guard dog for Nuthanger Farm who proved to be an obstacle whenever the rabbits of Watership Down ventured there. Later, however, Bob unwittingly played a crucial role during General Woundwort's siege on the Watership Down Warren that ultimately resulted in a victory for the Watership Down rabbits, defeat for the Efrafans and the permanent disappearance of General Woundwort. Bob appears to be a Black Labrador although its also possible hes a Labrador/Rottweiler mix going by his bulkyness. 
Watership Down
Edit
When
Hazel
and
Pipkin
first ventured to Nuthanger Farm to search for does they encountered Bob sleeping in his kennel. After being discovered by the farm cat,
Tab
, Bob awoke and started to bark, attracting the attention of the humans of Nuthanger Farm. This was repeated during the next visit to the farm during which Hazel attempted to bring back the hutch rabbits to Watership Down.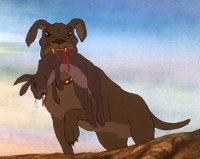 During General Woundwort's siege on Watership Down, Fiver went into a trance and revealed to the defending rabbits that there was a dog loose in the woods. From this, Hazel created a plan to release Bob and lure him to the attacking Efrafans that were attacking Watership Down. After Hazel released him, he was detained by Tab but saved by Lucy, one of the humans of Nuthanger Farm.
Dandelion
and
Blackberry
then continued the plan, leading Bob back to Watership Down where he threw the attacking Efrafan forces into disarray. He also attacked
Woundwort
, the outcome being most ambiguous because Woundwort's body was never found. Bob returned to Nuthanger Farm with only a scratch on his nose and a bite on his leg, presumably from Woundwort's last stand.