Silverweed
Talk

0
161pages on
this wiki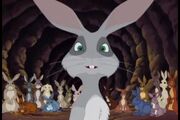 Silverweed
was a rabbit that lived in the
Warren of Snares
. He is said by
Cowslip
to be 'The finest poet the warren had had in months'. Silverweed is indeed quite skilled in poetry.
Fiver
said that 'Silverweed had frightened him with his poem, but he was the only rabbit in the Warren of Snares that he could understand.
His poem is as follows:
Edit
"The wind is bowing, bowing over the grass.
It shakes the willow catkins; the leaves shine silver.
Where are you going, wind? Far, far away
Over the hills, over the edge of the world.
Take me with you, wind, high over the sky.
I will go with you, I will be rabbit-of-the-wind,
Into the sky, the feathery sky and the rabbit.
In autumn the leaves come blowing, yellow and brown.
They rustle in the ditches, they tug and hang on the hedge.
Where are you going, leaves? Far, far away
Into the earth we go, with the rain and the berries.
Take me, leaves, O take me on your dark journey.
I will go with you, I will be rabbit-of-the-leaves,
In the deep places of the earth, the earth and the rabbit.
Frith lies in the evening sky. The clouds are red about him.
I am here, Lord Frith, I am running through the long grass.
O take me with you, dropping behind the woods,
Far away, to the heart of light, the silence.
For I am ready to give you my breath, my life,
The shining circle of the sun, the sun and the rabbit."
TV Series
Edit
In the animated television series, Silverweed made his debut in the episode,
The Easy Life
, reciting his poem to the rabbits in the Warren of the Shining Wire, frightening
Fiver. He is a seer with mental abilities similar to Fiver, in particular possessing the ability to see into another rabbit's mind by touch. Like Fiver, he will speak in a very frightened tone during particularly disturbing visions.
In the third season, Silverweed is traded to Woundwort to help him seek his destiny, but later ends up on Watership Down and becomes a good friend of the rabbits there. He becomes especially close to Hannah the mouse. In the end, he used the magic he took from her to sacrifice most of his youth to save the warren from Woundwort, losing his power to see tomorrow and freeing him from this ability. The aged Sillverweed reassured his friends to not sorrow for him and that he is content that his friends are safe and that Watership Down survives.