The Shadow of Efrafa is the fifth episode of Season 1.
Hazel, Fiver and Bigwig decide to visit Efrafa, after hearing reports that Efrafa want to kill all outsiders. Hazel encounters General Woundwort and asks him a few questions, Unaware Woundwort is set out to kill him. Hazel falls in love for a rabbit called Primrose After Fiver has a vision about Woundwort's past (which is unlike any others he's had before), they escape having made a new enemy. Hazel promised himself he will come back for Primrose to be free.
Characters
Edit
Primrose
Hazel
Fiver
Hawkbit
Bigwig
Dandelion
Vervain
Pipkin
Campion
Blackberry
Kehaar
Hannah
General Woundwort
Blackavar
Locations
Edit
Watership Down Warren
Efrafa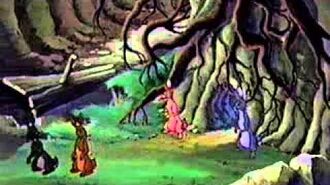 Ad blocker interference detected!
Wikia is a free-to-use site that makes money from advertising. We have a modified experience for viewers using ad blockers

Wikia is not accessible if you've made further modifications. Remove the custom ad blocker rule(s) and the page will load as expected.